Bike trainer: What it is? Types and advantages
Andrew P.
Indoor cycling has become a popular workout for people of all ages and fitness levels. It is a great way to get your heart rate up and burn calories without going outside in the cold or heat. One of the most popular ways to do indoor pedalling is on an indoor bike trainer.
A bike trainer is an apparatus used to simulate riding a bicycle indoors. It allows the user to pedal a stationary bicycle, which drives a resistance unit that creates drag against the pedals. This provides a workout for the cyclist without having to go outside.
These indoor bike trainers were invented in the late 1800s and were originally used by professional cyclists who needed to train during the winter months. Nowadays, elite bike trainers are used by people of all ages and fitness levels. They are a great way to get the heart rate up and burn calories without going outside in the cold or heat.
A smart bike trainer simulator is the next evolution, smart trainers allows to automatically emulate a ride over a real road. It works connected to a computer or device that transmits via Bluetooth or Ant+ data about road inclinations, allowing the bike trainer to automatically adapt resistance.
Ride from your living room or pain cave room is a great way to stay in shape during the winter months or when the weather is not conducive to outdoor riding. It is also a great way to warm up before a race or event. Many professional cyclists use turbo trainers to stay in shape during the off-season.
The device ensures that the rider can continue to train even when the weather is not good enough to go outside. It also ensures that the rider gets the required amount of exercise without overdoing it.
Type of Bike-Trainers
There are three common types of bike trainers:
Resistance Bike trainer / Wheel-on trainer
Direct-Drive Bike Trainer
Roller Bike Trainer
Resistance Bike Trainer:
The Resistance Bike trainer / wheel-on trainer uses a bike roller and resistance unit to create drag. It is the most affordable type.
Direct-Drive Bike Trainer:
Direct drive trainer removes the rear wheel of the bicycle and attaches directly to the drivetrain. This type is more expensive but offers a more realistic ride feel.
Roller Bike Trainer:
Bicycle rollers do not attach to the bicycle frame, the rider must maintain balance on the rollers while training and keeps vertically thanks to the wheels energy.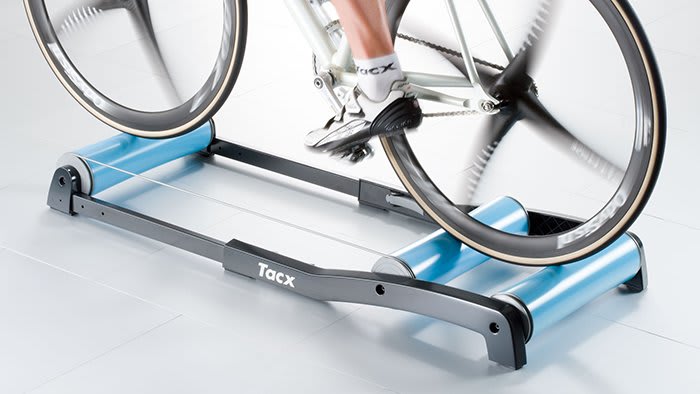 How to Use a Bike Trainer
The first step is to choose the right type of turbo trainer for your needs. Once you have the turbo trainer, set it up in a well-ventilated area and ensure it is level. Place the bike on the bike trainer stand and secure it according to the manufacturer's instructions.
Start pedaling slowly to warm up, and then increase your speed. Indoor cycling requires more effort than outdoor riding, so make sure you are hydrated and take breaks.
Most indoor bike trainers come with a resistance unit that can be adjusted to make the workout more or less difficult. Start with a low setting and gradually increase the resistance as you get stronger. Remember to cool down after your workout and stretch your muscles to prevent injury.
Ensure that your bike is properly positioned in the trainer. The correct position will depend on the type of trainer you are using. For example, direct drive trainers require the cycle to be positioned so that the chain is aligned with the cassette.
Once you have positioned your bike, connect it to the power source and pair it with your device. You can use the app to control the trainer and set the resistance. Start pedaling and increase your speed as you go. When you are finished, dismount your bike and turn off the trainer. Remove any sweat from the bike frame and components to prevent corrosion. Wipe down the trainer with a damp cloth and store it in a dry, cool place.
Benefits of Using Bike Trainer
1) Recovery Rides
Bike trainer simulators are a great way to do recovery rides. Recovery rides are low-intensity rides that help you recover from a hard workout or race. Recovery rides help improve your fitness and prevent overtraining. They also help you mentally recover from a hard workout or race.
2) Increased Endurance
Bike simulators help you increase your endurance. By riding at a low intensity, you can ride for a longer period without getting tired. This allows you to build up your endurance to ride for longer distances.
3) Ensures Specific Workout
Pedalling indoors helps you to maintain a specific workout. This is because you can control the resistance, making it easy to do intervals or tempo rides. Intervals and tempo rides help improve your fitness and make you faster on the bike. Stamyn allows you to replicate the feeling of riding outdoors by using the Virtual Trainer app. This app simulates different courses and terrain so that you can train for specific events.
4) Reduces Injury from Unfamiliar Routes
Outdoor riding can be dangerous because you never know what obstacles or terrain you will encounter. This can lead to crashes and injuries. Indoor riding on a bike simulator reduces the risk of injury because you are in a controlled environment. The path is fixed, and there are no obstacles to worry about.
5) Weather Conditions
Turbo trainer lets you ride no matter what the weather is like outside. If it is too hot, cold, or rainy, you can still get your ride in. This is especially helpful for people who live in areas with extreme weather conditions. Weather conditions limit outdoor cycling. During severe weather conditions, it is not safe to ride outdoors. However, you can still get your workout in on a home trainer and attain the required kinetic motion.
6) Time Constraints
A home trainer is a great way to get a workout in when you are short on time. You can still get a good workout in if you only have an hour. Outdoor riding often requires more time because you have to account for the distance you will be riding. Indoor riding on a elite bike trainer is more efficient because you do not worry about space, traffic, or other interruptions. You can get on and ride.
When is Indoor Cycling a Good Option?
Indoor cycling is not always the best option in all situations. Some scenarios need outdoor riding, while others are best for the trainer. Indoor riding is a good option when:
You are short on time
The weather is bad
You want to focus on a specific workout
If you need to recover from a hard workout or race
You want to ride in a controlled environment
To avoid riding on unfamiliar routes and getting injured
Common Mistakes to Avoid When Riding on a Bike Trainer
Riding on a turbo trainer is not as easy as it looks. There are some common mistakes people make when they are first starting. Here are some of the most common mistakes to avoid:
a) Not Warming Up Before Your Ride
Warming up is important because it helps prepare your body for the workout. It also helps reduce the risk of injury. Start with a light warm-up and then gradually increase the intensity.
b) Not Cooling Down After Your Ride
Cooling down is just as important as warming up. It helps your body recover from the workout and prevents injuries. Do some light pedalling and then stretch when you are done.
c) Not Adjusting the Resistance
The resistance on a bike trainer can be adjusted to make the workout more or less difficult. If you do not change the resistance, you will not get effective training. Start with lower resistance and then gradually increase it as your fitness improves.
d) Forgetting to Shift Gears
Shifting gears is important because it helps you maintain a comfortable pedalling cadence. If you forget to shift gears, you will either be pedalling too fast or too slow. Find a gear that is comfortable for you and stick with it.
e) Cycling Mindlessly
Avoid riding aimlessly. Have a plan for your workout and focus on it. Structure your activities so that you can track your progress and see results. Highlight the various exercises you want to do and divide them into sets. This will help you stay on track and motivated.
f) Overtraining
Overtraining is a common mistake that people make when they are starting. They think they need to ride for hours every day to see results. However, this is not the case. You can injure yourself if you overtrain. Start with shorter rides and gradually increase the duration as your fitness improves.
Conclusion
Indoor training is gaining traction nowadays. Some people prefer it because it is more convenient and time-efficient. Others find that riding outdoors is a better option for them. Ultimately, the best decision is the one that works best for you.
Consider all of the factors before making a decision. If you decide to ride indoors, make sure to avoid the common mistakes people make. With proper planning and execution, you can have a great workout on a bike trainer. Also, avoid people's common mistakes by warming up, cooling down, adjusting the resistance, shifting gears, and cycling mindfully. Lastly, do not overtrain as it can lead to injuries.
Click here to use a limited free trial on Stamyn emulator.